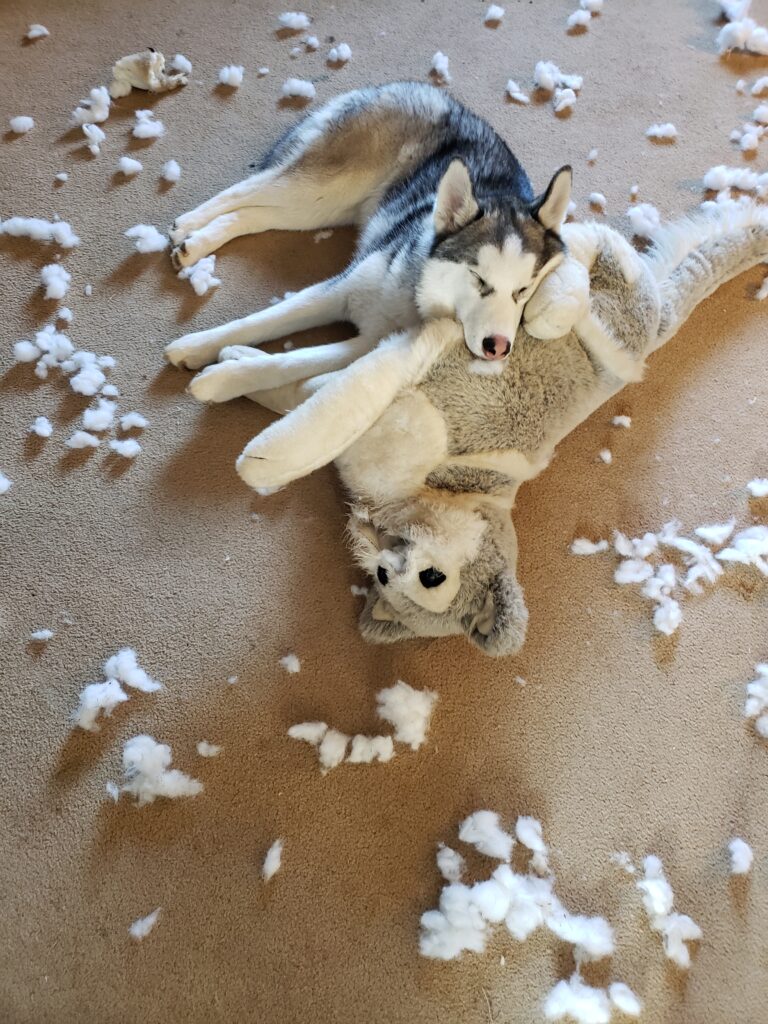 We have assigned Little Blue the task of testing toys and equipment. Below are his reviews:
Shire's Carrot Ball for Horses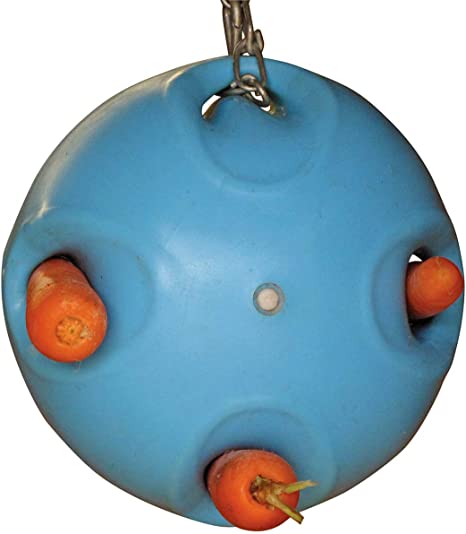 Description-a rubber ball with side "pockets". Mom puts carrots or large dog biscuits in the "pockets" for me. Designed as a treat/chew toy for horses. It can hung from a rope/chian or just bounced, tossed and chased as a ball.
RATING 4/4 paws-Highly Reccomended especially for snow dogs/ and tough chewers!
Rating Details-4 paws for durability. It has lasted me for 3 years! (You see what I did to the stuffed dog). Although mine has tears and holes, it is still intact and "inflated".
4 paws for fun. I love to run with it in my mouth. It is easy to hold and toss in the air. Mom can throw it pretty far. It bounces. I can sling it from side to side (Mom does not let it in the house beacuse I beat her legs with it.)
3 paws for price $45-$60, but worth every cent! Available on Amazon, Chewy and other on-line retailers
Busy Buddy Squirrel Dude
Description-Soft Rubber toy shaped like a squirrel. It is hollow inside to add treats, with rubber "fingers" around the opening.
Rating 3.5/4 paws-Tough to chew apart. Lots of fun
Rating Details- 3.75 paws for durability. This is one tough squirrel to chew apart! I did find a trick of nibbling around the opening at the head of the squirrel. By nibbling/picking around the edges, I can make the hole largerr and larger until the rubber eventually cracks. It does take some work. Mine has lasted me 2 years
4 paws for fun! It is a great chew, bounces and humans can throw it really far. Mom packs it with all kinds of cool stuff-like yogurt, peanut butter and baby food and then freezes it. Humans can also put animal crackers, small dog biscuits and other treats in it.
2 paws for cleaning. Although it can go in the dishwasher, food tends to get stuck deep inside. Mom says it can be very hard to clean out especially with peanut butter inside.
4 paws for price-starts at $7 depending on size. Available from Chewy, Amazon, Petco, PetSmart and other retailers.
Currenlty testing West Paw Chew Toys-Review to be posted soon.
Send ideas of items to be Blue tested to my mom at [email protected]