March 1, 2017
Wow! Can't believe I have not written in a few months. Been a busy mal. Teaching classes, smacking down attitudes, going to Mingles, hiking with mom and Ranger, and now being Tyson's personal (running) trainer. And I still find time to dig up the back yard. 🙂 Mom says she is working hard to correct the video issues on her website, so everyone can see the highlights of my life. So many great memories of my first two years of life: Wrestling class with Mr. Ranger, chewing up the sofa, chewing up mom's seat belt, playing with my friends Sully, Toby, Ziggy and Zoey, chewing up mom's car seats…..
March 16, 2017

Mommy said I did a really good thing on Monday, taking care of my sister Miss Mattie (cat). Mom had left the door the basement open and Miss Mattie slipped upstairs and out the dog door. I was outside playing with my bro Ranger. Ranger started barking and mom called him inside. She called me too, but I would not come. I always come when Mom calls. I lay on the back porch, staring at the trash cans, whining. I do not whine!  Mom knew something was wrong. She came outside and looked where i was staring. There is Miss Mattie hiding behind the trash cans meowing!  Mom went over and picked up Mattie and told me to go inside, which I did, and let mom carry Mattie back to the basement.  I did not chase her, or bark at her, or hurt her, even though she slaps me and hisses every time I walk by her in the basement.  Mom says that I may have saved her life, because she has never been outside before and can not defend herself (She was declawed before she came to live with us).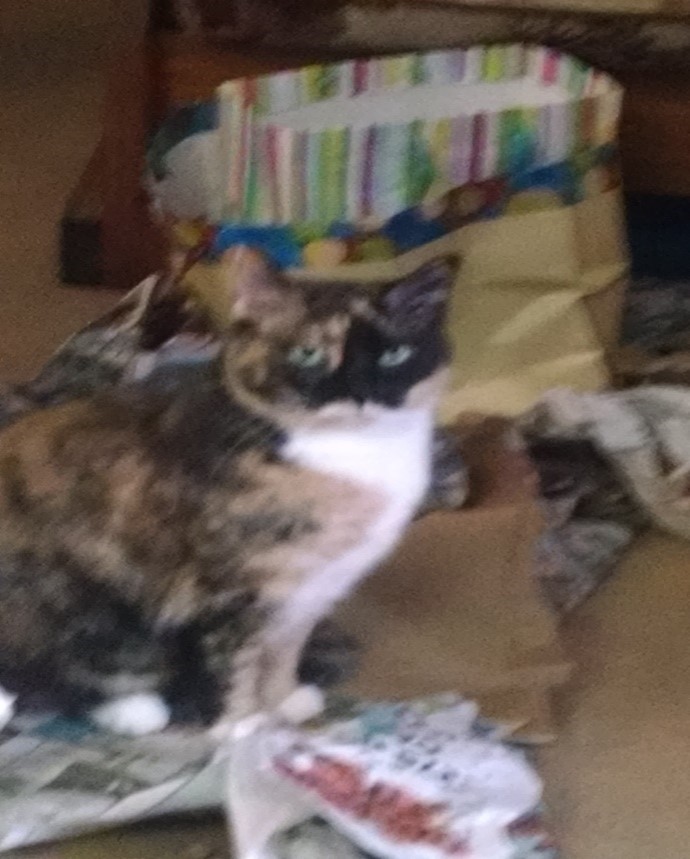 April 20, 2017

Another milestone!  I got to be loose in the house twice now for over an hour and, did not do any damage! I was asleep in my kennel with the door open when mom left. The first time I was still asleep when dad came home. Today, I got up and hung out in the living room with my bro Ranger. Nothing chewed up, nothing dragged outside, nothing even out of place. Mom is thrilled:) I hope this doesn't mean I stop getting my "frozen yogurt pops" when mom leaves.

I started back on my weight pull training today. In a half hour, i was pulling Tyson, Mom and then a spare tire around like I was born for it. Oh yeah! I was born for this. Mom says she will be adding weight to my tire soon, and if I do really well, next winter Tyson will take me snowboarding. Not sure what that is but mom says it involves lots of snow and pulling — my two favorite things.
September 5, 2017
I went to a pet therapy visit today. There was this big black curly "dog" who kept staring at me. It would not look away even when I growled. Mom told me to look away, and I did -reluctantly. The "dog" never moved. I went around to sniff and it smelled cold but weird. Mom said it was a statue, of a sheep.
September 14, 2017
My new little brother Henry came home. Mom says he is a baby cat. I think he looks a lot like a fuzzy red squirrel. I just want to play "bat" and chase with him. Mom says I am too big and he is still too little. What good is he if I can't play with him?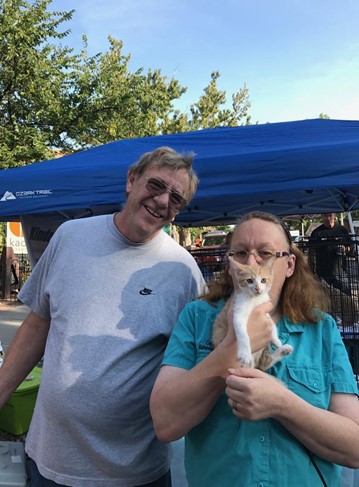 October 26, 2017
I turned 3 years old today! Mom says I have grown up to be a beautiful girl. Although I will never fill Enya's paw prints (no one will), I have become a patient, and effective teacher and enforcer. Almost every week, I get to help other dogs learn to interact respectfully and appropriately. I get to visit people in nursing homes and brighten their day. Mommy is very proud of who I have become.