February 7, 2019
The DNA results are in! To all you nay-sayers-I am ALL MAL! 100% Malamute-right down to my floppy ear
🙂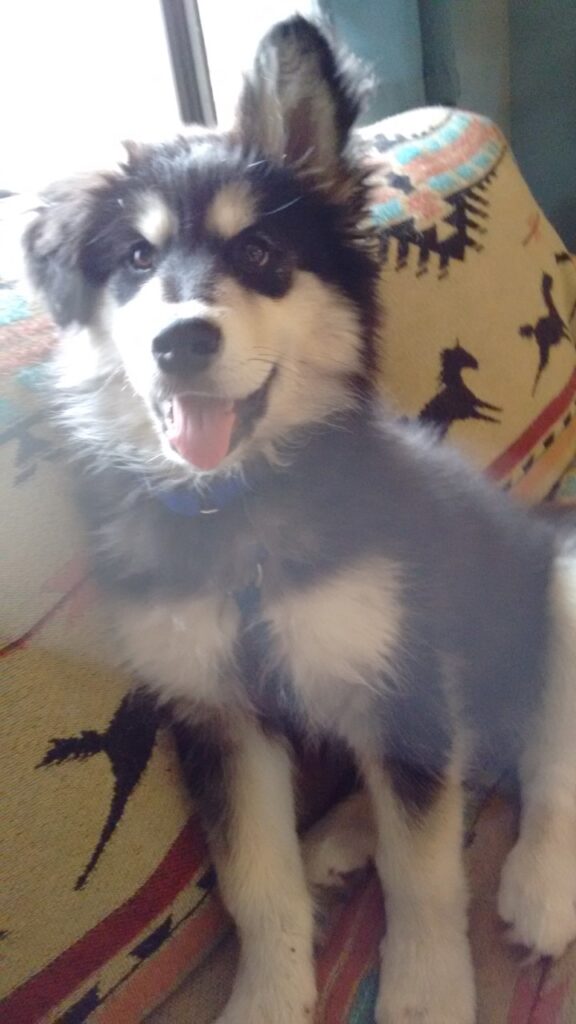 "Nobody, including my mom, said that I would be." That's right, I am all MAL-AMOOO_MUUT! and proud of it. Just goes to show that you can't judge a mal by it's body, only its heart!
March 6, 2019
Mom just got notice! I qualified for the National Summit championships, with the World Wide Weight Pulling Organization (W3PO)! I qualified in two events, rails and wheels, which also makes me eligible to compete in snow pulls. Mom is so proud of me!!
No, we probably won't go this year. Mom is hoping I will qualify again next year, when I am a little more experienced and can handle the high-intensity environment better and be more competitive with the seasoned competitors.
September 13, 2019
Yesterday, my big brother Ranger died! It is a difficult and confusing time for me. He has always been there from the first time my little paws came through the front door. Now, he is gone. I feel so lost, so empty. I know mommy is very upset too, but I do not know what to do to help her.
I know that Ranger's has had trouble seeing lately. he gets scared in new places. Sometimes it has been hard for mommy to wake him up, and when she does he snaps at her. He snapped a lot if I startled him, or came too near his food. But he would still play with me. We ran around the backyard together, wrestled and mouth played.
We were running down the hallway last night when Ranger suddenly collapsed, and began banging his head against the wall. I got scared and ran outside. Mommy came out, and carried Ranger into the living room. I cautiously came back inside. I lay by his side, not knowing what to do. I tried to support him and keep him from hurting himself. Mommy and daddy were crying.
I knew as soon as they carried Ranger to the car that he wasn't coming back. I didn't know what to do. I started to cry at the window. Then Tyson came over and sat with me for a while. He petted me for a while, but I just wasn't "into" it. Finally I went and lay in my kennel. I felt so lonely. It seemed so dark and empty, even in my beloved kennel.
Mommy and daddy came home in the middle of the night. I did not even come out of my kennel. i just lay there, facing the wall. I knew Ranger was not with them and he would never be home again. I finally came out and sat by mom. She was crying and held me tight. I know she did not want to take Ranger away, but it was time for him to leave this world. I was on my own!
Ranger had raised me well. I just hope I can live up to his expectations. Right now, it so so hard to just want to move through the day.
October 6, 2019
It has been three weeks since Ranger died. Slowly I have begun to eat and spend time outside again. I still feel so alone. There is no one to play with (mommy tries). I look into mommy's office, where Ranger used to sleep and see his bed empty. My heart hurts. I go into the living room and stare at the empty sofa. No Brother to watch over me. Mommy says I am the big dog now, but I can not climb onto the sofa. I just can't do it, despite mommy's encouragement.
Mommy and Daddy left today. Miss Andi came to stay with me. I am scared that they won't come back. Miss Andi says they will and they will bring me a new baby brother to care for. I am excited to have someone to play with, but I don't know how to teach a baby without Ranger here to guide me.
October 7, 2019
Mommy and Daddy came home and brought me a puppy! I was so happy, my tail is wagging and my eyes lit up. Now I have someone to play with! I can do this. Ranger taught me well. I am the big sister now. I have to teach him and make Ranger proud.