Jan. 11, 2015
I love my big brother Ranger! Watch how we wrestle around the house by clicking on the link below:

Moira wrestling with Professor Ranger

Jan. 15, 2015
So, today I was introduced to this thing called a "Hedgehog". Not sure what that means but he sure is fun to pounce on the bat around the living room. If you haven't seen a puppy play with a hedgehog, check out my link below for a good laugh.

February 10, 2015

How to induce a near heart attack in your mommy person? The disappearing puppy- I reached a puppy milestone last week. I now get to sleep anywhere I want in the house. No more puppy jail! Yesterday afternoon, mom and dad went out and I got to stay out of my room!! Two hours later, they come home. Nothing torn up, no pee on the floor, and no puppy! Ranger met mom at the door. No Mara! Mom looked all through the yard, in the window wells, even in the trash cans — no Mara. She started flipping over furniture in the house —still no puppy. Mommy knows i like socks and toilet paper, so the her bedroom and bathroom had been closed off before they left. Those doors are still closed.

Mommy was so panicked at this point, that she did not realize that her office door, which she had left open, was closed. The third time she runs down the hall screaming my name, she saw the closed door. She rips the door open, and I am sitting quietly in Ranger's kennel, happily chewing on mommy's scrapbook. I swear she started crying. I was being a good puppy. OK, maybe tearing a page out of her scrapbook was not the greatest, but I got myself locked in the room and I got bored. At least I didn't potty anywhere.
Mommy got so emotional!!
February 17, 2015

From the Mara papers: Trashed puppy.
Mommy person finally relented to leaving me loose in the house and yard when she was gone, after Ranger swore on the snow not to lock me in his room, or mine again (Yesterday, Ranger locked me and himself in my room).
Today she comes home, again no Mara at the door. This time she does not panic, and searches the house. No Mara, She starts walking through the backyard and sees me. I am inside the outdoor trash can, up to my fuzzy little ears, ready to go the curb. The can was not knocked over, it was upright. There is me, fuzzy puppy inside the can trying to climb my way out. She started laughing so hard, that she startled me and I knocked over the can and fell out before she could grab the camera. Ranger got tired of me and threw me in the trash. Of course he denies it 🙂 He did promise not to lock me up, nothing about throwing me in the trash.
February 17, 2015

Mara Papers cont.: Yesterday I got to meet the UPS guy. He is like… way cool. Petted me and told me how beautiful I am, and took pictures. What's up with all you dogs who hate postman and delivery guys?? They even give you cookies, and give mommy packages that you get to help open-and they have doggy toys in them!
May 4, 2015
So today I got to play with my friend Sasha Rose. We had a lot of fun – check out our day in the link below!

June 11, 2015

Click on this link to see how I taught Toby how to play nicely in puppy class

June 15, 2015
Wanna watch me learn how to "fly"…..click on the link below but don't blink cause you might just miss me! Those jet airplane's got nothing on me!

June 17, 2015

I am a big girl now! A little too big to sleep under mom's bed anyway. I got stuck ! This morning. Daddy had to lift up the bed to get me out.
June 27, 2015

Sorry I have not written in a while. It has been a busy month. Mommy has been taking me to dog parks, and hiking in Cherry Creek State Park. I have been helping with teaching both puppies and big dog manners. I am learning to play in dog parks. The first visits were pretty scary. Big dogs charging at me. At the Husky Huddles/Malamute Mingles, I felt overwhelmed. Dozens of dogs running towards me and wrestling-AGGH! I slowly learned to run with "the big dogs." When two dogs got into a fight, I ran to help; but then stopped. I was not sure what to do. At the dog park, I did start body blocking to protect my smaller friends. I have decided that my job is to protect the smaller dogs of the world. I like to play with them, and will block bigger dogs from playing too rough with my little friends.
Hiking was the coolest. Tall grass, bugs to chase, little furry things running across the ground (chipmunks), lots of smells, and soft hills that Mom would not let me play in (ant hills). It was like the biggest yard ever… It just kept going and going, and going. There were even a few people who told me how beautiful I was (Yes, I know I am gorgeous!). When we got back to the car, I collapsed in the back seat.

I have also been busy chewing! Mom says it is my one bad habit. Well! Leave a malamute puppy in the car with nothing to do for 10 minutes — don't be surprised when I chew through the seat belt! Or climb over the back seat and eat all the animal crackers in Mom's training toolbox. Leave me home, even with Ranger here, I will destroy your shoes, or sunglasses. When Mommy is gone, I have been staying in my bed (kennel). My kennel is actually not so bad, Mom give me what she calls "kongs" full of frozen yogurt, puppy food and sometimes animal crackers. Yummy!. Sometimes I run into my kennel just hoping to find a kong.
Mom says we have to work on my separation issues. I say just keep the kongs coming and we are good!

I turned 9 months old yesterday and weigh 70 pounds. I am not growing as fast, but am only two pounds behind my big brother Ranger. Boy! I am paying him back for using me for a soccer ball, a fling toy, and throwing me in the trash as a little puppy. I can tackle him to the ground, and body slam him into the furniture now. Give me little more time, and look out for Mighty Mara!
August 11, 2015
(age 9 1/2 months) Momma is having to face the realization that I am not Enya. Yeah! big surprise. I will probably never be a tough enforcer. I am a lover and a peace maker. I don't get why other dogs even growl at me. Just chill and out and play with me (My philosophy on life in general.)!
Every time a dog charges me or growls at me, I just flop down into a play bow. When that doesn't work, I belly up. I love humans and will be a great therapy dog. I love hanging with the little dogs and I will protect them in the dog park. The big dogs charging at me just sends me into a flop and belly up. I do not want to fight with anyone. Looks like I will be a peacemaker when I grow up, and mommy promised to love me just the same. I am leaving the enforcing up to my big brother Ranger. Even though I am considerably taller than Ranger, I refuse to weigh anymore than him (Then he would not be my big brother anymore). I have stopped growing at 70 pounds (for the past three weeks). Momma says it's because I don 't want to be bigger than Ranger. Maybe when I get a little older I will change my mind and go on another growth spurt. We'll see!
September 7, 2015
I may be a brat sometimes; but now, I am a blessed brat! Mom took Ranger and me to church on Sunday for a blessing of the animals. We behaved pretty well. Ranger kept "talking" over the Pastor, but everyone told us how beautiful we were. I was restless and did not understand why no one petted us or the other dogs would not come say hi. I did sit very quietly though when the Pastor laid his hands on my head to bless me. I have been a perfect angel ever since! I can now stay out of my kennel when mom and dad are gone!
September 9, 2015
Puppy pool party

October12, 2015
Grand-daughter's birthday toy. So, Ranger and I think it's possessed.

October 26, 2015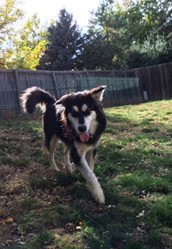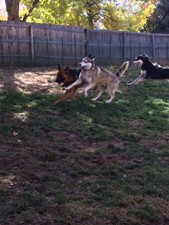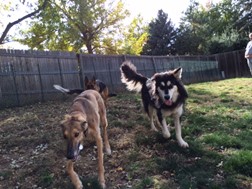 My first birthday! Am I growing up fast! Already 75 pounds.
My friends came over for a pool party, to celebrate with me and Ranger (who is 9 now). We ran and played with Cairo and Suki, and our other friends.
I got my new adult name today — Moira. It is an old Gaelic word that means "Mighty" or apparently in Scotland "Princess". Boy does that name fit me. When mom was trying to find a name for me as a puppy, I kept trying to tell her. I guess due to the mental gap between dogs and humans, she thought I wanted to be named Mara (at least that is what kept popping into her mind). Now, she realizes it was supposed to Moira-for I am a little princess. And yes Mom, you are still the queen!
November 1, 2015
Mom took me to work to teach a Lab puppy some manners. What fun! On the way home, she had to stop and check on two dogs whose parents were coming home later than expected from vacation. Figuring I was tired from my playdate, she left me in the car to rest — for 10 whole minutes! Kiss the seatbelt in the back seat goodbye! I chewed right through them and then laid down quietly as if nothing had happened. Mom was not happy when she tried to unbuckle the seat belt to let me out.
November 30, 2015
Mom spent all afternoon yesterday helping build a float of Santa's sleigh, that Ranger may help pull through the Parade of Lights in Colorado Springs on Saturday, December 5th. Mom and I will be in "the honor guard" along the sides. (The final husky/reindeer line up is being determined). I am so excited. I am not sure what a parade is; but mom says there will be lots of people and lots of other dogs, all trying to look as cute as me-HAHA! The Parade starts on Tejon street in Colorado Springs at 5:45 pm on Saturday Dec 5th. Come see us.
December 6, 2015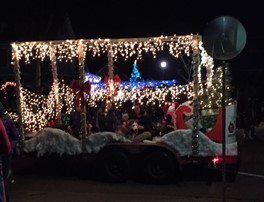 Ranger and I marched in the Colorado Springs Festival of Lights Parade last night, with the Southern Colorado Husky Huddle/Malamute Mingle group. I had no idea what a parade was. At first it was cool, we got lunch and a long car ride. Then a dinner snack and a jog through Colorado Springs (because mom and Auntie Quinn were running late). The jog would have been much more fun if we stopped to get pets from everyone who said how beautiful we were. Mom said we had to get to the "staging area" so Ranger could ride on the float with the sleigh. We get there and the float is not big enough for all the husky "reindeer", so Ranger got dropped from the lineup. Bummer. But that meant he (and Auntie Quinn) got to march beside me, near the front of the float, which turned out to be pretty cool.

We got to sit around, and be rudely nosed and even bumped by other nordics who seem to have left their manners at home. Mom said we did so well at turning away and only growling when they would not leave us alone. Trying to sit still for two hours was pretty miserable. We are sled dogs, not "sit" dogs. All 28 huskies and malamutes were dancing around, trying to play and even picking fights (which their humans stopped). Two hours like weeks in puppy time. We were both really good, but finally I got seriously bored. I started pawing mom's leg and jumping on her "This is boring, come on, let's do something". Finally, we lined up. By this time, my tail was down, my ears (both of them) were down. I just wanted to go home. This so sucked.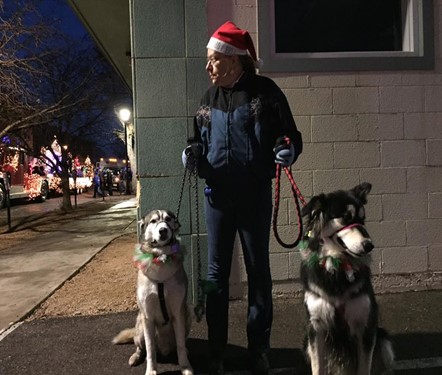 We started walking. Ok finally this misery is done…Wait a minute, what do I hear? People, lots of people cheering and saying how beautiful the huskies are. (Ok so I am a Mal, but for all this adoration, I'll deal with being called a husky.) So, this is what a parade is. You walk/jog down the street and thousands of people praise you, and reach out to touch you. They tell you haw beautiful you are, while mom tells you what a good girl you are and how proud she is.. My tail pops back up and arches high. I hold my head high. I feel like a real princess with all my adoring subjects bowing to me. Oh yes!! I can do this parade thing. Sometimes I got a little nervous with so many hands coming at me, and the loud noises (sirens, motorcycles) and I lean on Ranger. He is walking beside me getting pets too. When I get scared I lean over and touch him. He reassures me and I turn back to my adoring fans. Periodically, Mom would let us step to the side and get petted and hugged by the kids. I love those little humans. They are such good huggers 🙂
Then it was over-downer.:( On the way back to car, more people stopped to pet us and lavish praise. I even got petted by this tiny human, (a one-month-old baby). I was so gentle. I lay down and gently set my head on his stroller, and licked his face. He giggled and patted me with his tiny hand. Then I found his "bottle". I am not sure what a bottle is but it tasted like mommy dog when she used to feed me. The baby giggled when I licked his bottle. Mom told me to stop. At least the baby's mom thought it was funny. What a night. On the way home, another long car ride, Ranger and I slept like we had partied way too hard.
Mommy can't stop telling everyone how proud she is of us. How well behaved we were. She says we were the best behaved dogs in the group. All we did was walk beside mom and Auntie Quinn and get petted. There was a lot of noise, and people, and so much fun….. Can we do it again, mom, please?! This time can we skip the sitting around forever first though?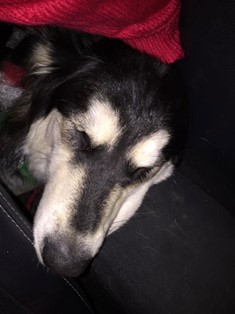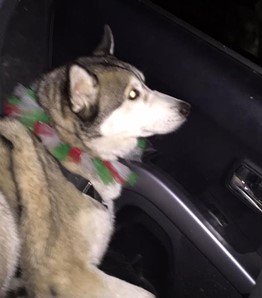 Boy were we tired afterwards!
December2015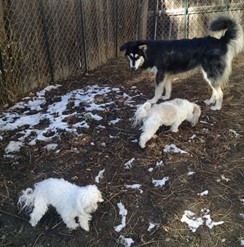 I got to have a sleepover with my friends Ziggy (tiny white one) and Zoey (white and brown). They may be little but they are so much fun to hang out with. I can't wait until I am old enough to do pet therapy visits with them. I don't know why Mom is so pleased when I am nice to little dogs, they are my friends.