For those who wish to honor Enya's memory by helping other dogs and cats,
she asks that you make a donation to Denver City Animal Shelter.
Sunday, October 26, 2014, Miss Enya crossed over the rainbow bridge into malamute heaven. After a hard and painful battle with bone cancer, she was finally at peace.
She was able to attend her therapy pet Halloween party and sing her sweet Malamute song for everyone on Saturday, which was the best way for her to spend her last day.
Enya asked that those who wish can honor her memory by donating to Denver Animal Shelter, from which she was adopted in 2009. She would like to help other dogs and cats have a chance to find loving forever homes. Donations can be made at http://www.denvergov.org/denveranimalshelter/DenverAnimalShelter/Donate/tabid/445387/Default.aspx.
The Canine/Feline Behavior Counseling 10th anniversary party was a celebration of Enya's life.
Thank you for helping to give Enya a full, happy and productive life. Her big Mal heart touched so many lives — both canine and human. She will be greatly missed in this world.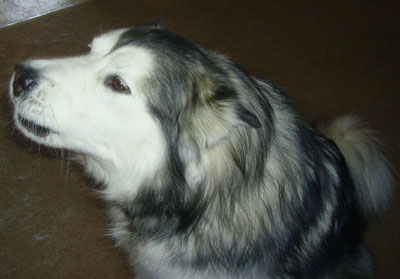 The story of Enya the Singing Malamute
Enya's story began in early 2009 when she was picked up as a stray by Denver Animal Control. After several months in the shelter, with no one to claim her, her fate seemed dreary.
In March, she was adopted with the intention of becoming a service dog. Finally, she had a purpose and a real home.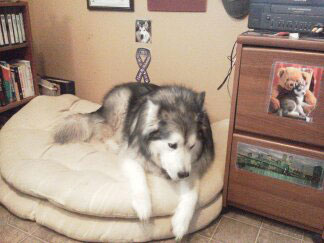 Her new trainer came to evaluate her three days later and immediately raised questions about the young dog's hips and hind quarters. The poor dog had a very stiff and awkward gait. The trainer advised against service dog training. As the trainer (Miss Marie) was leaving, she received a cell phone call: "Stop your car! My dog ran out the door and is chasing you!" The malamute, only 8-10 months old, was returned home and placed on a leash.
A few days later, Marie received a phone call because the malamute had gotten into a serious fight with the resident old husky, a retired service dog. Again, Marie advised that this adoption was not in the malamute's best interest. Marie had admittedly fallen in love with the beautiful dog; but had concerns about adopting her because of Marie's two aggressive dogs at home. The malamute was placed behind a small fence when Marie left. Again, Marie was barely out of the driveway when she had a malamute shadow. The dog was again returned home.
Another dog fight, this one resulting in the older husky requiring stitches, prompted one last call to Marie. "You need to come get the dog. I can't have her attacking my service dog." When Marie arrived, the malamute ripped the screen door trying to get out, jumped into Marie's car and they were gone.
The first day in her new house consisted of a huge dogfight between her and her new "sister" Heidi! In order to calm Hiedi, one of the techniques used was audiotherapy (the use of calming sounds or music). We played songs by the singer Enya to help calm Heidi while re-introducing her to the newest member of the Seelmeyer pack. Every time Enya sang, the malamute howled along with her. Hence, her new name Enya! From this day forward, Enya's favorite activity was to entertain people with her deep, echoing howl — her signature malamute song!
During her first few weeks in her new home, Enya tried to fit in. She wanted so badly to run and play with the other dogs. Halfway across the yard, her hind quarters would collapse and she could not get up. She growled at every dog who passed her in the hallway. Her ribs were clearly visible, and she had chronic diarrhea. After treatment for her low-thyroid hormones, good-quality puppy food and pain medication for a malformation of her rear leg bones, Enya was ready to keep up with her new siblings.
At the time, the Seelmeyer pack consisted of Heidi ,who greeted humans by barking savagely at them and trying to bite their faces, Isaac Newton, who would fly into blind rages and attack anyone who moved for no apparent reason and Eddie Munster, who had to live in the basement to escape Heidi's lust for cat blood. "Cousins" to the Seelmeyer pack consisted of Sheena (lead husky of her household and therapy dog), Toffee (sweet chow mix and therapy dog) and Charlie (scaredy Border collie puppy). Enya immediately recognized Sheena's leadership and became her protégé. Sheena taught Enya to interrupt inappropriate play, use body blocking to prevent fights, and force to the ground any dog humping. Within weeks, Enya and Sheena were a "tag-team dog park patrol". Even in a blind rage, Isaac Newton would turn away from Sheena and Enya and attack the next nearest dog.
When Sheena crossed over in December of 2009, Enya took over running "her" pack, the dog park and any place else that her mom (Miss Marie) took her. Enya refused to tolerate any ill-behaved dog and reminded them of the rules with a loud threatening growl. If the growl did not get her point across, a body slap would follow. Quickly, Enya worked beside Marie, teaching puppies appropriate manners, correcting aggressive dogs, and mentoring future therapy dogs. Over time, Enya developed a finesse for making her point "stick" in her pupil's memories, including sitting on the head of small dogs who spoke to her inappropriately. During the next five years, Enya taught well over a hundred dogs how to conduct themselves properly around other dogs and people. Of her days off, Enya visited nursing homes, singing for the residents, and attended Mingles — soaking up all the human affection she could get.
In the Spring of 2014, Enya began limping badly and experiencing increasing pain in her front legs. Several exams and x-rays later, in August, she was finally diagnosed with osteosarcoma (two separate tumors) in the bones of her left front leg. Given her deformed hind limbs and a previous injury to her right shoulder, leg amputation was not a viable option. She would have been unable to support herself on her remaining "bad limbs". Chemo and radiation therapy were also ruled out due to detrimental side effects and cost (given her large size). The decision was made to allow her to continue to work as long as she was able, and then allow her to enjoy her life as long she was able. By mid-October, her hind limbs and right front leg began to give out. Getting up from lying down and navigating stairs became difficult. Stairs had to be provided for her to get in and out the car. She retired from work, but made occasional appearances in star puppy classes and continued her pet therapy visits.
On October 7, Enya was able to attend the blessing of the animals at her family's church and sing to the congregation. On October 25, Enya appeared at the nursing home Halloween party and wished everyone a howling Halloween. She was unable to complete the pet therapy parade of costumes, and went home to rest. The following day, On October 26, Miss Enya was allowed to rest permanently. She crossed over the rainbow bridge with her human family and her vet/"auntie" Deanna, in a peaceful park. Miss Enya left behind a huge pawprint on many hearts and a legacy of well-behaved dogs.
Thank You Enya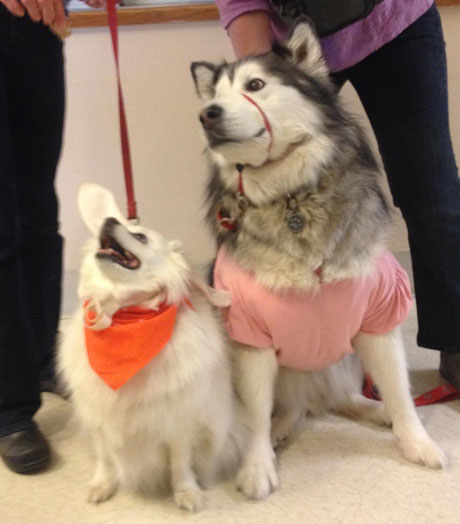 The debut of Tundra (costumed as the Easter Bunny) as therapy dog, under Miss Enya's guidance (of course). Tundra started her training by trying to attack Miss Enya (never a smart move). Tundra barked and lunged at every dog that entered class and was a demon on a leash around other dogs. After Good Manners and Therapy Dog Class, she got to "hop through the nursing home" alongside her mentor, Miss Enya.
---
Unlike all — and I mean all — my dogs, be it standard poodles (Moses, Max, Elle, Moolah and Simcha) and others (Buddy, Ricki, Nicki), Her Royal Highness Goodie thought she was The Alpha Dog with a tiara. Perhaps a better description would be an "Alpha Wanna Be." Whereas all my dogs had their place – to my left upper or lower or right upper or lower in bed – Her Majesty would take the middle (my place) as if it were hers. She even once brought up all her toys and placed them in a semi circle around her – as if she was holding court with her subjects.
---
Enya put her in her place – till Simcha arrived – to temper this behavior. And while Her Majesty still has a lapse now and then (though no one believes me) the frequency is minimal since your training from Goodie.
---
She was such a smart dog. I will always remember how good she was at keeping my dogs — Katie, Zelda, Buddy & Mumbles — in line.
---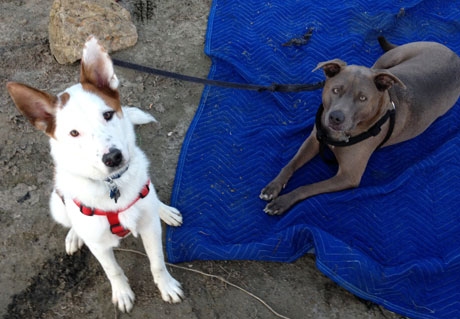 Rico and Franky say: "Miss Enya taught us to be polite with other dogs and to not run our open doorways. She helped keep Franky from a death sentence or life in doggy jail. We will miss you, but we promise to stay out of trouble"
---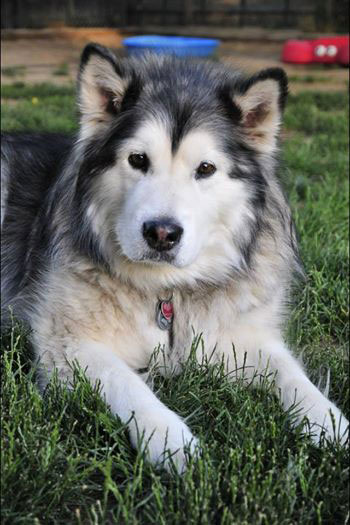 She was a beautiful dog that was very much loved. She also was such a great teacher to my three crazies. – Michael and Shatera
---
I am incredibly sad to find out that this sweet girl, Miss Enya, has passed away. This girl taught me so much about canine behavior while I was going through classes for school. She taught Rocky how to be a good therapy dog and was a wonderfully sweet therapy dog herself. She taught so many other dogs how to be well-behaved and she will be missed so much — Nikky
She taught me a lot while I was with you both and she sang the beautiful song of her people with heartfelt happiness. Godspeed sweet Enya! — Sue.
---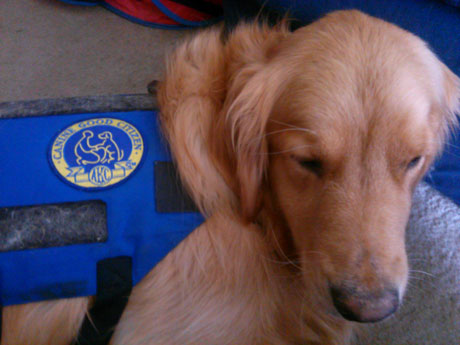 Gideon wants to thank Enya for teaching him how to ignore the other dogs and stay focused on his job as a service dog.
---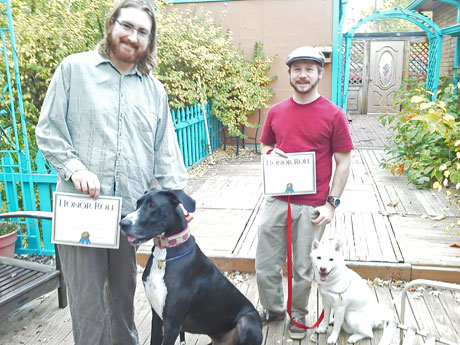 Jupiter (white dog) says: "I promise I will never stare another dog in the face." Arrow (black dane) says: "Thank you for teaching me how to correct Jupiter without eating him."
---
The Lessons I learned from Enya (by Ranger)
Never hump a malamute!!
Stay out of the malamute's kennel, or be sat on!
Do not stare at other dogs and they won't try to kill you
If you play nice, and not body slam, hump and bite other's dog's necks, they will actually return to play with you.
Every toy in the yard is not mine, and the other dogs get to play with them too.
Share your swimming pool.
Do what mom says, and you get to go to really cool places and show off to other dogs.
How to be a good therapy dog
When to howl and when to shut my yap. I am still working on this lesson.
Being a good dog is almost as much fun as being a total devil — sometimes even more fun.
I will never be able to fill your paws, but I will try my best to help mom while you watch over us from above.
---
Dear Miss Enya will dearly be missed. Our puppies have all learned to be better dogs due to her steadying influence. Pound puppies just need that loving alpha and we greatly appreciate what she brought to the world under Marie's guiding hand. Love sent to Enya on the other side of the bridge! And lots of animal crackers too! Cleo, Essie, Nora and Polly.
---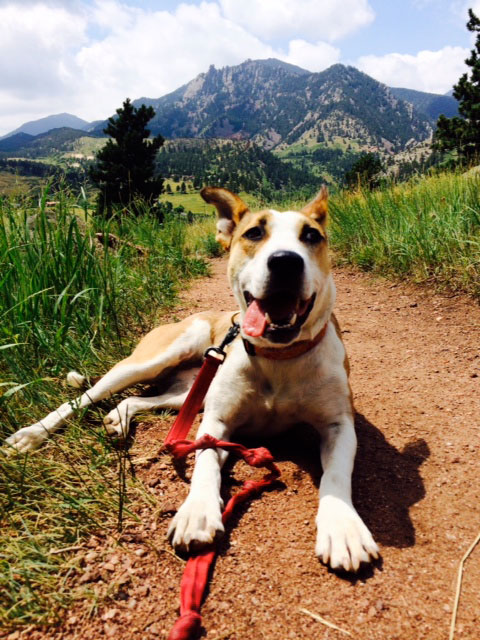 Roo: rescued from an Indian reservation, and placed in her forever in 2013, Roo liked to challenge her new mom. She did not come when called, pulled violently on leash and generally ignored every command.
After mom was educated in dog language and expectations, and Roo counseled by Miss Enya, forever is looking pretty happy.
Roo now walks beautifully on leash, comes when she is called and no longer obsesses over squirrels and prairie dogs.
---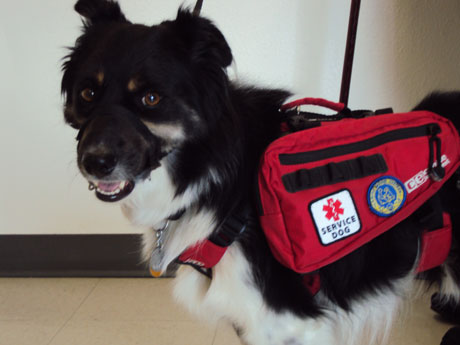 Dax says: "Thank you for teaching me to ignore other dogs while working with my Mom. Your "stare down" got me focused instantly. I promise to keep my eyeballs to myself from now on."