Updated April 4, 2022
This area is reserved for animals who have shown dramatic improvement in a short period of time. These animals and their humans are definitely winners! Each member of the winner's circle gets a winner's medal and a certificate. Each year 1 or 2 animals are chosen as the most improved of the year.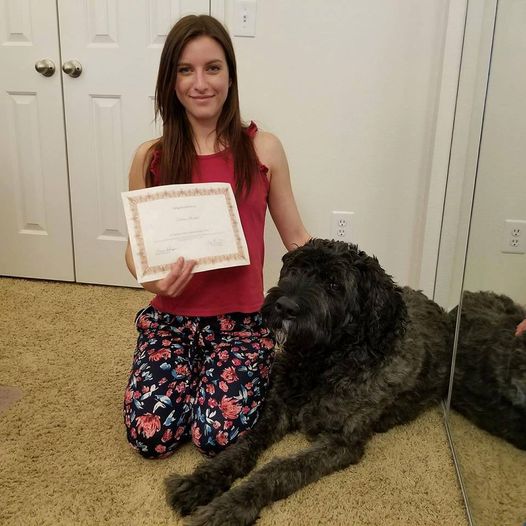 Kuma
Meet Kuma-Most improved Dog of 2016! My first meeting with Kuma was his face lunging towards mine, at the end of his leash, barking insanely! It took 3 visits to even be able to touch him. After a lot of hard work by his humans, with our guidance, Kuma can now go for walks and have humans over without exploding.
---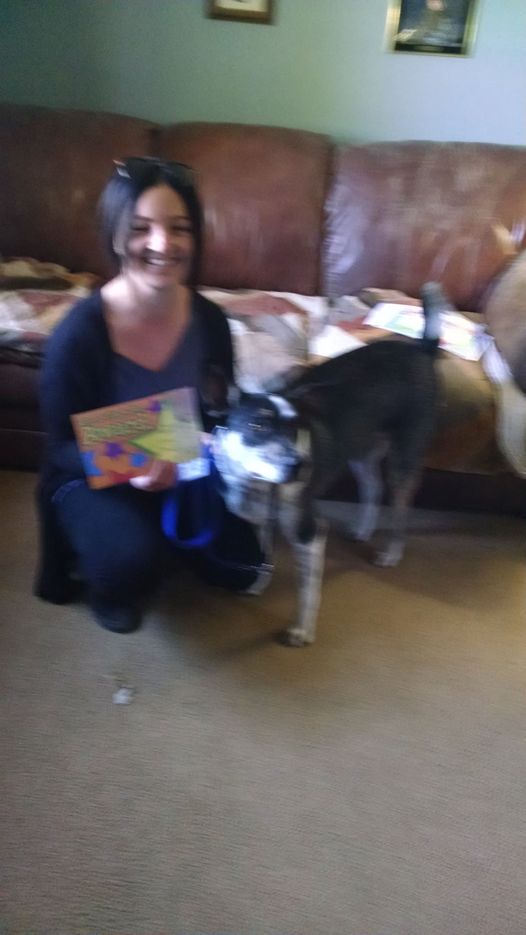 Miles
Miles with Mom Austin. Miles is most improved dog in Canine Basics class. On October 26, 2016, Miles came to Austin as a rescue. He barked and ran from Miss Marie at their first meeting. Miles barked at anyone coming into the house, or even passing by the door. Miles lunged at every dog that walked by. With the help of a turkey diet, some calming herbs and lots and lots of hard work, Miles has calmed down and can be walked down the street without having a meltdown.
---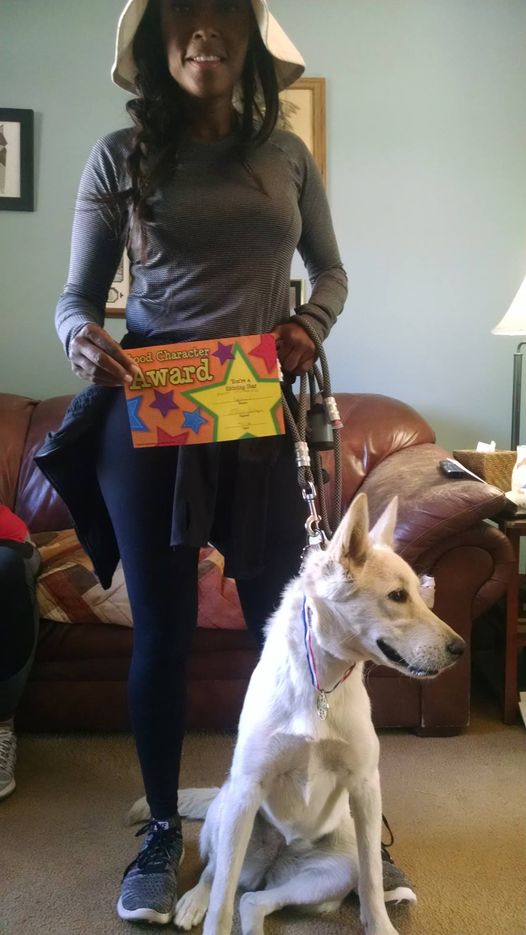 Snow
Snow was most improved puppy in class on October 1, 2016. Snow came to class the first day lunging at and trying to hump Tiberius. Snow thought that trying to hum Moira was really fun until Moira informed her that was unacceptable (malamute Style). By class 4, snow had decided that being a lady and calmly letting Eddie Munster say hello, was the proper thing to do. In six weeks, Snow grew up from a little demon to a polite young lady.
---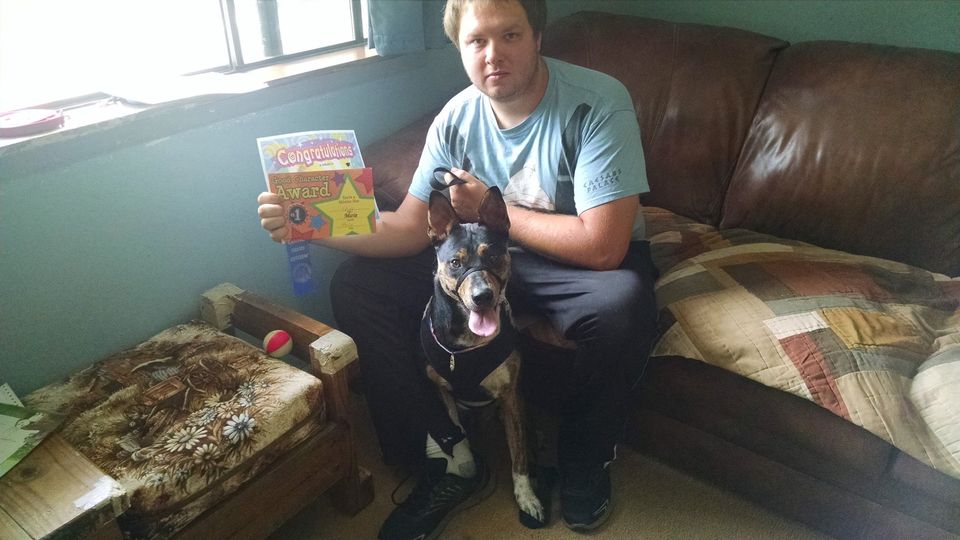 Chip
Meet Chip – most improved dog in Canine Basics class, July 2016. Chip began his life as a stray on a reservation in New Mexico. His dog mom was a stray, so Chip was under-nourished and only knew humans to be cruel and uncaring. He was rescued and brought to Colorado as a puppy. He was adopted by Nick into the only human family he ever knew. Chip began life in his forever home with no doggy or human social skills. Earlier this year, he got out of the house with his adopted doggy sister Moo and pounced on another dog which got him into trouble.
With 2 private sessions and 4 weeks in class, Chip has learned not only how to perform basic commands, and play nicely with his canine friends; he also earned his AKC Canine Good Citizenship award on the first try!
---
Aisha, most improved dog in Socialization class. When Miss Marie first saw Aisha 3 1/2 weeks ago, Aisha was biting at Miss Marie, barking and snarling. It took Marie 15 minutes just to be able to touch Aisha. Another 15 minutes and the "magic" of acupressure began.
Aisha and her mom Terry have worked incredibly hard over the past few weeks, until Aisha was held by everyone in class, and no longer screeched at the sight of another dog. Aisha say "I am still a scared girl, but I am learning courage and trust". Photo Unavailable
---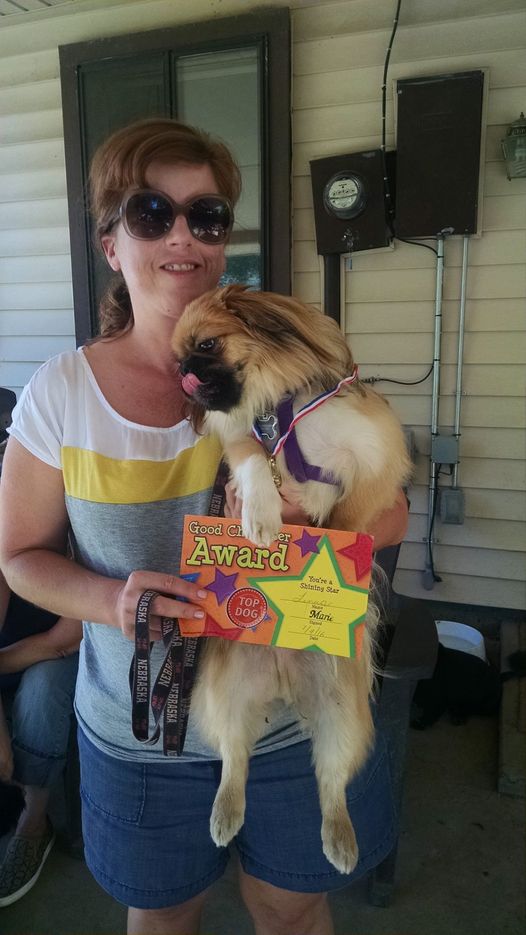 Linus
The first time Miss Marie came to my house, my brother Rudy hated me. I was an obnoxious puppy climbing all over Rudy: jumping on him, trying to steal his food. Rudy just wanted me gone. After some "counseling" Rudy learned to tolerate me more and I learned to be less obnoxious. I went to Star Puppy class and was still a little pushy. Thanks to Miss Moira and my classmate Toby, I learned how to play nicer. Not only did I graduate, but I was awarded most improved puppy in class. My brother Rudy even came to see me graduate!
---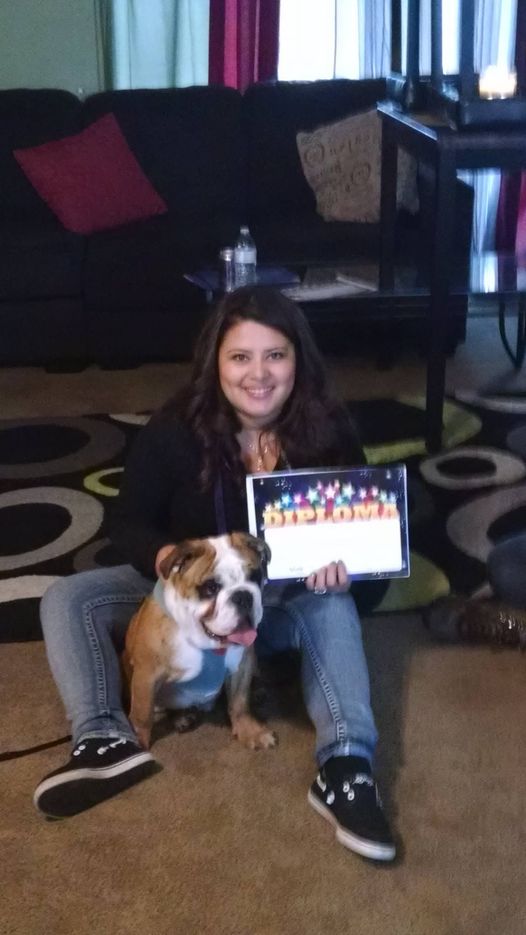 Hercules
A little pup with a huge ego. The first day of puppy class, Hercules decided to mount not only his classmates, but Miss Moira! He refused to listen to his human parents and bit both his classmates and his humans. After several "smack-downs" by Miss Moira, a sacrifice and a "sit on", Hercules' attitude finally started to change. Hercules got to view puppy class from his back, playing "pass the puppy: for most of the 6 weeks. By graduation, he was a perfect gentleman and even bowed to Moira when she entered the room.
---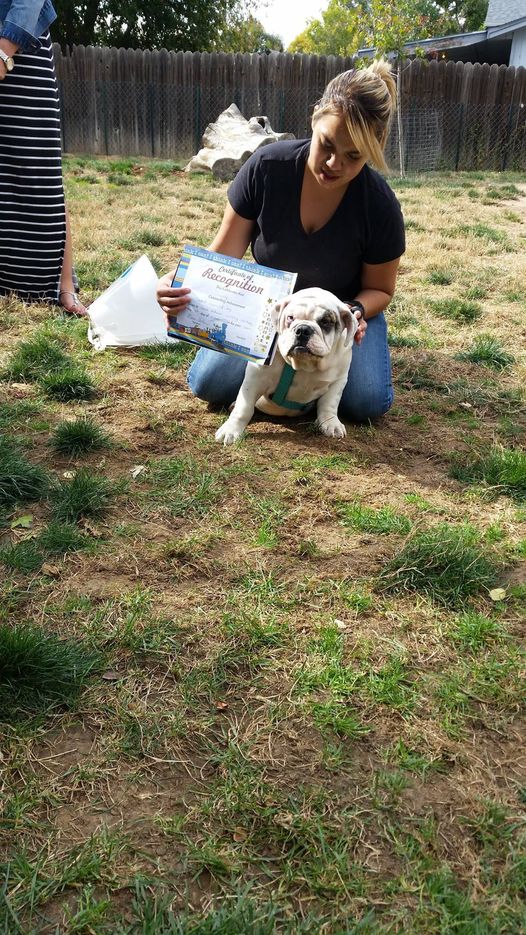 Lenny
Winner of most improved puppy in class, AKC Star Puppy Class in October 2015, Lenny began his puppy class career by attacking his sister Sazy and attempting to hump Stuart and Moira. After being sacrificed, in front of all the puppies he was trying to impress, Lenny decided that being polite was a better idea. Lenny no longer picks on his sister or tries to bite his humans.
---
Curly 2
Curly was a rescue dog who came to his forever family in early 2015. Barbara wanted to teach Curly to be a hearing dog for her, but Curly had other ideas. Trying to bite Miss Marie in the face was on the top of that idea list. We spent most of our first 2 sessions trying to convince Curly that his teacher was not a chew toy. He would not allow Marie to hold him, touch his feet or even put a headcollar on.
Curly first learned to walk on leash without pulling Barbara off her feet. He then learned that barking at other dogs was not polite, especially when those dogs are Ranger and Mara. Gradually he allowed Marie and then others to handle him. Curly graduated from Socialization class with honors. Then he decided to get serious about service dog training. Curly has learned to alert Barbara to the doorbell, someone knocking on the door and the smoke alarm. He's now learning how to behave in public. "What do you mean, I can grab food off the shelves at King Soopers?!' "Oh, boy, more boundaries to learn:(" Curly hopes to join the service dog alumni page soon. Photo Unavailable
---
Suki
Suki was rescued from a hoarder. He nearly died from malnutrition and parasitic infection before while in rescue and before being adopted by Jackie. When he was finally healthy enough to travel to Colorado, he came to join his new forever family. His first week in Colorado, Suki was so emotionally shut down, he did not want to eat, would not leave his bed, and refused to interact with anyone.
With some aromatherapy, acupressure, and lots of TLC, encouragement and patience, Suki began to wander from his bed and go outside with his extended doggy family-Cleo, Essie and Nora. With guidance from Miss Marie and lots of positive reinforcement, Suki learned to walk down stairs, go for leash walks, and even climb in/out of the car. By the end of socialization class, Suki was interacting with other dogs including Mara and Ranger. Now, everyday is a new and exciting learning experience. Photo Unavailable