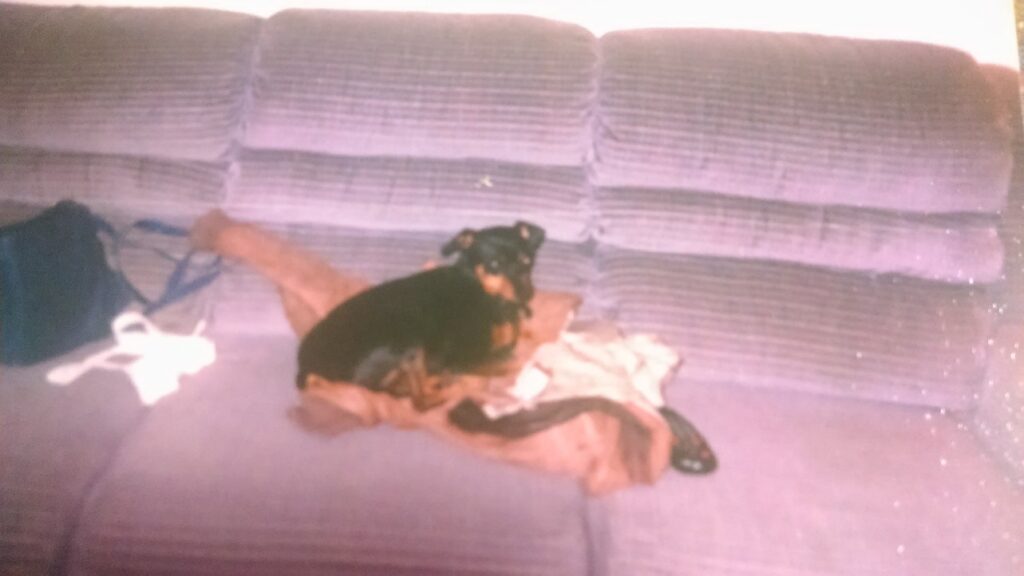 Updated, December 7, 2020

This is Dino Antonio, a Miniature Pinscher.
Dino had been brought in for euthanasia at a veterinary facility where Marie was working. The story is familiar: A childless couple get a dog to be their baby. Then "mom" becomes pregnant. Dog becomes jealous of human baby, and starts biting. When they arrived at the veterinary office, Dino jumped into Marie's lap and curled up. Marie didn't have the heart to euthanize him and convinced the owners to let her adopt him.
Dino was great with Marie, but hated the rest of the humans in the world. It would have been fine, except Marie had a man in her life, Glenn (who would become her husband). Dino tried to bite Glenn and his son repeatedly. Dino would bite whenever food or a toy was present, or whenever he was near any piece of furniture. He even bit Marie a few times when she tried to take inappropriate objects from him.
Dino also suffered from severe separation anxiety and would chew holes in the bedroom door when he was left alone. (A 10-pound min-pin can chew through a wooden door if sufficiently motivated!) Dino was placed on medication for his separation anxiety. Unfortunately, the medication made his aggression worse. Stopping the medication — yes, "cold turkey" — made Dino more aggressive and even more unpredictable.
After seeking help from professional trainers, and veterinary behaviorists for more than a year, Marie ran out of options. Everyone wanted $200 or more an hour, which isn't an option on a vet tech's salary. No one would work with her or Dino.
After Dino tried to bite Glenn's 88-year-old father, Glenn's son and then Marie all in one night, the difficult decision was made to euthanize Dino. As many of you have experienced, it was a horrible and very painful decision. For four years, Marie questioned her decision.
In those four years, Marie decided that there had to be an option for people with aggressive dogs who genuinely wanted to work with their dogs but had limited funds. Marie also came to believe that other options besides prescription medications had to be available. While continuing to work as a veterinary technician, Marie took a course in dog training and behavior. She attended every seminar she could and read everything she could get her hands on.
Canine Behavior Counseling officially opened its doors on November 2, 2004. Marie's goal was to provide training and behavioral services, especially for aggressive and anxious dogs, at affordable prices. She was committed to working with anyone who wanted to help their dogs regardless of their financial situation. The business still offers options for those with limited finances.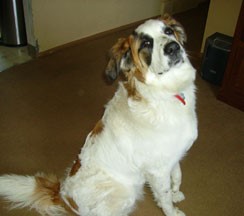 In 2008, Marie adopted Isaac Newton, a Saint Bernard/Great Pyrenees mix with aggression issues. Isaac's aggression was very unpredictable. After extensive research, Isaac was diagnosed with Rage Syndrome, a seizure disorder which caused extreme and unpredictable aggression. This condition is rarely treated due to the concern for human safety. Marie was determined to do everything she could to save Isaac. Marie learned about complementary medical techniques including acupuncture/acupressure, aromatherapy, herbal treatments, dietary and nutritional supplementation. She learned, too, everything she could about prescription medical treatments for behavior.
Unfortunately, in 2010, Isaac had a severe seizure and bit Glenn badly. Euthanasia became the only option. But what Marie learned from working with Isaac has helped save dozens of other dogs.
In 2010, Marie began working with cats more, and Canine Behavior Counseling became Canine/Feline Behavior Counseling. In that same year, Marie returned to college and completed her bachelor's degree in veterinary technology with a minor in animal behavior. She graduated in 2013.
Marie and her staff continue to attend continuing education courses and learn everything they can help to help our human and animal clients.